Joined

Aug 6, 2019
Location
Yintal DE from AliExpress - $16.95
Omega brush (10065), stand and soap set from eBay - $22.95
Polsilver SI blade - loose change
The Yintal DE as so favourably reviewed by Errol a while back finally arrived today after a 6 week wait. AliExpress by name, but... Well maybe that's a bit harsh considering the wide reaching effects of the pandemic.
The Omega boar brush arrived from a local vendor in about a week so I've had a few practices with it. The brush looks like a 10065 model but could be a cheaper one produced for the set; I have no idea. I've read the Omega soap is made by Proraso and it lists eucalyptus as an ingredient. Quite happy with both.
First shave with the Yintal went just fine; the broomstick like handle (see pics for comparison to GG .849 and Karve) was less of a hindrance than I expected but the manufacturer has conveniently placed rings near the end of the handle which will accommodate a hacksaw just nicely if my thoughts change. The razor provided a DFS with no gotchas; however the blade appears to have ever so slightly more exposure on one side than the other and so I was expecting to find perhaps a 'good' side and a 'bad side' but they were indistuingishable with my limited experience. I measured both the width of both ends of the cap and the plate and they measured the same so perhaps the posts are slightly off. Or perhaps it's my imagination; hard to capture in a photo. Hey, for $16.95 (with AliExpress new customer discount) it's a steal. I won't be selling my other razors but will keep it in rotation for a while and see if my views change with other blades. It came with a tuck of Dorco ST-300 but I will be leaving those alone for a while.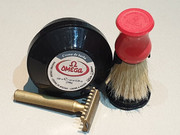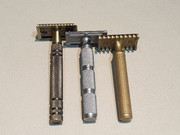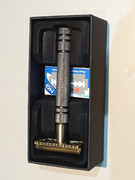 Whoops! That's the Karve in the first picture, not the Yintal.
Last edited: