...can I interest you in some vintage blades?
Staff member
Forum Administrator
Grand Society
Joined

Feb 2, 2011
Location
I am proud to reach into my personal blade vault and present this auction lot​

Please read the

auction guidelines here

before bidding, and note the additional auction conditions for this item below.

International bidders

: This item can be shipped internationally, however it will be repackaged to save postal costs. Please add an additional AUD$15 for US, CA, UK, IE, and AUD$25 for other countries. Any remaining postage costs will be covered by me.

Australian & New Zealand bidders

: This lot will be shipped free of charge to these countries.

NOTE

: Due to work-related travel, his lot will be posted W/C 23rd July, 2018. If NZ residents intend to bid, please advise me directly via PM prior to 11th July so I can post from NZ prior to the above date.

AUCTION DESCRIPTION

One box (10 hangar cards, 10 blades per card, 100 Blades) of Gillette Bleue Extra DE blades, NOS from Gillette UK warehouse closure clearance auction. These are circa 2000-2001 production, plastic dispensers. While the boxes are not 'sealed' condition due to age of glue etc, the blade dispensers are cello-wrapped, carefully stored when in my possession, and you can assume 'ex-factory' blade condition.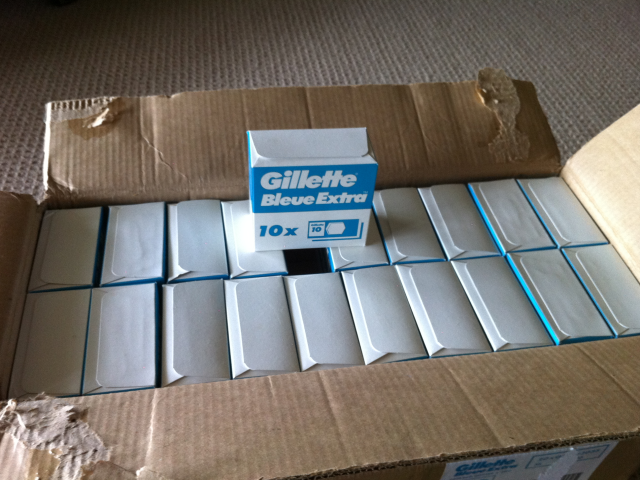 ​
ADDITIONAL AUCTION ITEM CONDITIONS:​
The minimum quantity of items on offer is 1, to the winner of the auction.
Bidders who do not win this auction but have placed bids of an amount deemed reasonable and helpful to raising money to this worthy cause may be made an offer to purchase a separate, identical item at your highest bid ('Offer Price') plus any postage if applicable as an overseas bidder.
There is no obligation to accept any offer to purchase if you were not did not win the Auction.
The decision to offer an additional item at your Offer Price is made at my sole discretion.
Payment for any offer made is as per the Auction Terms.

Only one box per bidding member will be offered.
There is no stated limit to the number of items that may be offered, however the expected total number of items offered is likely to be between 2-4.
Last edited: