Stirling Soap Co - Standard Baseplate

(USA)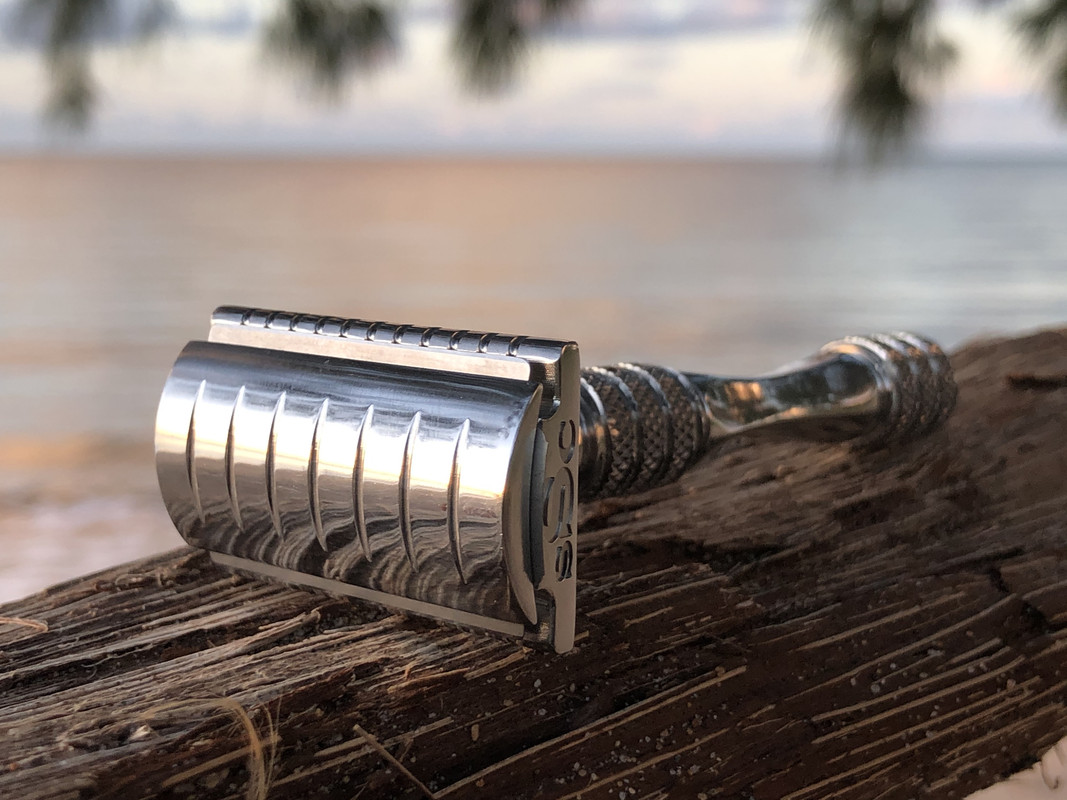 Stirling had been on the verge of releasing a fully machined stainless steel razor for some time but various factors intervened to delay a release. Early in March 2021, Stirling released their razor package with two options; my choice was to purchase both the offered plates on what is called their Austin handle. Immediately gaining your attention is the quality polished finished of the product; while the underside of the cap and the top of the plate retain machine marks, they are not immediately obvious and contrast well in their dull finish to the remainder of the razor. Seven radial grooves have been machined into the top of the cap to give it a unique appearance which is further enhanced by the makers insignia 'SSC' visible on each end of the plate. One long lather groove runs the length of the plate. Rather than being smooth, shallow channels have been machined into the face contact area of the plate. Elongated blade tabs protrude from the top of the plate. These days I don't even bother to load the blade on the plate but just insert it in the cap as 'normal' and line everything up from there. Seems to work nine time out of ten and I'm getting better at it. I'm a big fan of the style of handle fitted to the Stirling; forward and rear grip areas with a relieved centre section and just to add a visual effect, the relieved section on the Austin handle is hexagonal. To improve grip, the knurling looks to have been applied after the polish.
This razor is aggressive with efficiency not far under that of the Muhle R41 but with a level of blade feel not far removed from that of the Dscosmetic ZO. Smooth - hell no, with that amount of blade feel there is no way the shave can be smooth. Close – ticks that box. Blade feel – by the bucket loads. I managed to navigate through the review without any major mishaps but it was not pleasant shaving. Comfort level – none, very average. Shaving with the Stirling Soap Company's standard plate was, to put it bluntly - horrible; therefore, there will be no rush to trot it out again.
Blades Used –
Gillette Wilkinson and Glatz
Material –
Stainless Steel
Blade Tab -
Exposed
Weight –
97g
Head Width –
40.64mm
Handle Length –
88.72mm
Handle Diameter –
12.7mm
Availability
– Stirling
Final Word –
Not enjoyable