Muhle R41 GS - Stainless Steel

(Germany)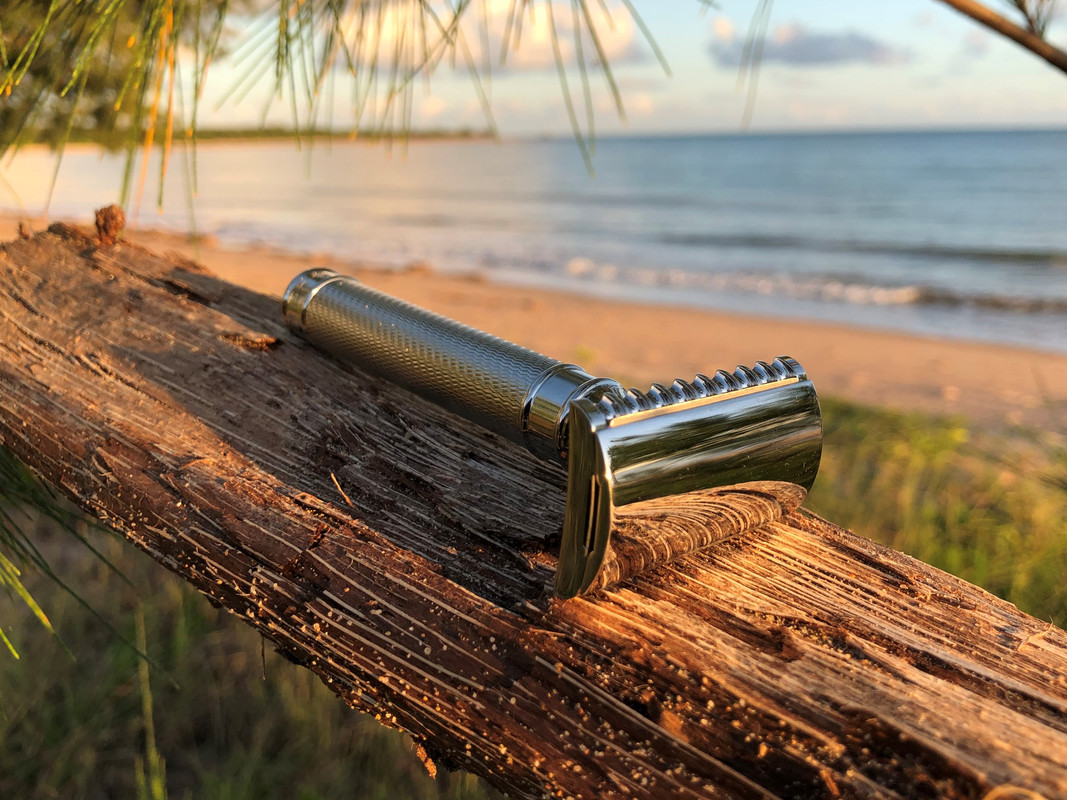 I ordered the Muhle R41 GS from Muhle USA and they were going to supply a set of cuff links. Sorry Sir, we have run out of cuff links so we are sending you a $25 after shave balm. Somehow, Muhle must have read my pedigree, I'll get far more use out of a can of shave balm than I ever will out of a set of cuff links. On the tenth anniversary of the release of their venerable R41 model, Muhle presented their own stainless steel version of the great razor. Earlier versions of the Muhle R41 were chrome plated zinc and for years there were calls for a stainless steel version, now Muhle have delivered.
Visually the only difference I could determine between the plated zinc versions and stainless steel version was that the stainless steel version actually has a superior shine. Having said that, the underside of the cap and the top of the plate have a satin finish. I went looking for machining marks and the only place I could see what looked like a machine mark was in the recess at the back of the plate. There's a long lather groove on each side of the plate and of course the scalloped edge, round blade posts on the cap, but like I've mentioned, no changes to the zinc version. It was a pleasant surprise just how solid the handle felt, I was expecting a much lighter handle, however the knurling was found to be a wanting, it is both shallow and slippery. It even appears that the handle may well have an electroplated finish but I'm not sure.
Well, surprise, surprise, the delivered shave felt very similar to its zinc sibling but with a bit more blade feel. There is no denying how close the Muhle R41 GS shaves and for such an aggressive razor the feel is reasonable smooth. Muhle have sacrificed functionality for appearances on the R41 GS handle making it the slipperiest handle it has been my misfortune to use in ages. Wet, dry, it just performed badly. That ability to confidently control the GS has probably led me to believe there is more blade feel than there actually is and diminished my enthusiasm for the R41 GS. With my collection being primarily machined stainless steel razors, it may come as a surprise when I say I enjoyed the shave from the zinc R41 more.
Blades Used –
Gillette Platinum and Triton

Material –
Stainless Steel
Blade Tab –
Covered
Weight –
114g
Head Width –
42.28mm
Handle Length –
98.91mm
Handle Diameter –
13.9mm
Availability –
In most great razor supply shops
Final Word –
Performance